Multimedia Music Programs
Images, spoken word, recorded sound, and live music: all intertwined in compelling narrative shows.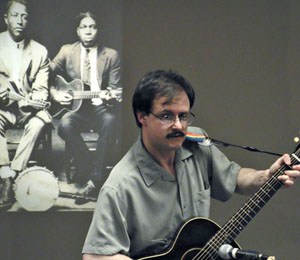 Gregg presents "Old Dominion Songsters" at the Hampton Acoustic Blues Revival.
Gregg combines his skills as an educator, historian, and musician to present fun and engaging multimedia shows on traditional music. Collaborating with some of the best musicians in central Virginia, Gregg weaves musical stories on the history of working people and their music. Frequent musical partners include master fiddler Mark Campbell, singer Jackie Frost, balladeer Mary Smith, roots musician Ron Curry, and Blues singer Sheryl Warner.
Gregg has presented themed shows at Colonial Williamsburg's Hennage Auditorium, the Virginia Historical Society, the North Carolina Museum of History, and to many professional and historical organizations. Explore the links below to learn more about Gregg's multimedia shows.