Sheryl Warner and the Southside Homewreckers
Gregg performs traditional Blues with the Southside Homewreckers, covering everything from hard-edged Delta tunes to the ragtime inspired songs of the Piedmont masters.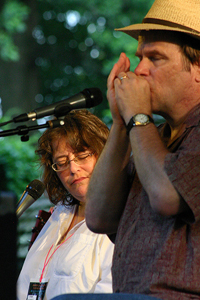 Performing at the Tinner Hill Blues Festival in Falls Church, Virginia.
Gregg has been playing country Blues for almost thirty years. He learned much of his repertoire from Bluesman and sideshow talker John Bradshaw who had been schooled by players such as Sleepy John Estes and Bukka White. Gregg also learned from Virginia legends John Jackson and John Cephas. (You can see Gregg's interview with John Cephas here).
Singer Sheryl Warner was one of the first few women to attend the Virginia Commonwealth University Jazz Studies Program. Described by Dirty Linen as "One of the most expressive and powerful voices in blues today." Sheryl draws on the extensive repertoire of early women blues singers, such as Bessie Smith and Memphis Minnie, and reinterprets the lyrics while retaining the spirit of the great bluesmen.
Rick Manson has been playing harmonica for nearly thirty years. He was a student and protégé of Richmond and New York blues legend Nat Riddles. He has also studied and played with internationally known hormonicists Phil Wiggins, Joe Filisko, and CarlosDel Junko. Rick has presented workshops at the Virginia Harmonica Fest in 2002 and 2003. Among Rick's influences are John Lee Williamson, Sonny Terry, Phil Wiggins, Charlie McCoy,and Big Walter Horton.