Gregg presents compelling talks on his various historical specialties as well as a variety of musical topics.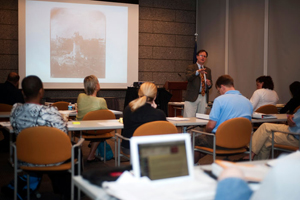 Gregg presenting at the 2010 Brown Teacher's Institute on Antebellum Richmond.
Gregg has a broad knowledge of American history and music based on more than thirty years of teaching, writing, researching and performing. He gives compelling, lively talks on a variety of topics, often employing images and sound to enhance the experience.
Some of his main presentation themes are traditional music in America, African American history, the antebellum South, the history of work and working people, and a variety of Virginia topics.