Upcoming Talks and Performances
Gregg can be found performing, speaking, and hosting other artists across the country. Here's his current schedule.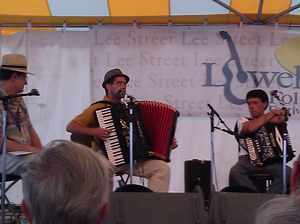 Gregg hosts an accordion workshop at the 2012 Lowell Folk Festival
In addition to musical performances, lectures, and talks, Gregg conducts tours, hosts artists at roots and folk festivals and venues, and does a variety of workshops. Check here for his latest activities.
Take a look at Gregg's Programs and Education pages for a description of some of his programmatic offerings and his music pages for performance information.

 Sat., Feb. 2, 2019
 "Goodbye Booze: The Music of Prohibition" in Alexandria, VA
 Gregg
 Fri., Feb. 22, 2019, 4:00 pm
 A musical conversation with Rashid Johnson's exhibition Monument

at the Institute for Contemporary Art

 Broad Street Ramblers
 Sat., Feb. 23, 2019, 3:00 pm
 

 A musical conversation with Rashid Johnson's exhibition

Monument

at the Institute for Contemporary Art

 Broad Street Ramblers
 Thurs., March 21, 2019
 

"Down on the Farm: Songs of Land, Labor, and Nature," multimedia presentation at the Varina Library.

 Broad Street Ramblers
 Sat., May 4, 2019, 7:30 pm
 The Southside Homewreckers retun to Crossroads Coffeehouse.
 Southside Homewreckers
 Sat., May 25, 2019
 Performance and workshop at Music and Arts on the Farm, Barrier Island Center, Machipungo, VA
 Southside Homewreckers