Public History and Education Projects
Curating exhibitions, creating outdoor interpretive plans, leading walking tours, conducting classroom activities, are all part of Gregg's work.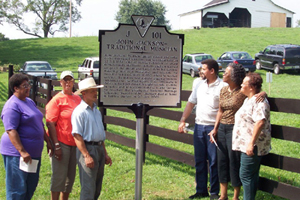 Jeffrey Scott and other relatives at the John Jackson marker dedication.
Gregg is deeply involved with communities and organizations across Virginia, assisting with a wide range of projects involving American history and culture. He has researched and written historical markers, assisted in the development of historical sites, and conducted many programs for schools across Virginia.
Gregg is passionate about making the stories of our shared history and culture available to everyone. He uses his extensive experience creating fun and accessible public projects to develop compelling projects.

 Some of Gregg's Notable Projects
Five State Historical Markers honoring  Virginia Blues musicians (James River Blues Society)
State Humanities Scholar for "New Harmonies" Traveling Exhibition (Smithsonian Institute, 2008)
"Old Dominion Songsters: Traditional Blues in Virginia" (Library of Virginia Traveling Exhibition, 2005)
 Folklife Area for National Folk Festival, Richmond (Labor theme, 2006)
"Virginia Roots Music: Creating and Conserving Traditions" (

Library of Virginia Exhibition,

2001)
State Historic  Marker and tours of Richmond's Barton Heights Cemetery (2005)
 Restoration and interpretation of the Tredegar Iron Works (Valentine Museum, 1992-1993)
" The Working People of Richmond" (Valentine Museum Exhibition at Tobacco Row, 1991)