Programs, Projects, and Education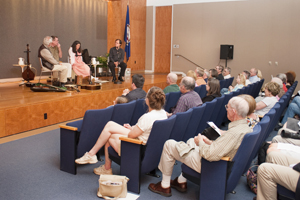 Although Gregg has always maintained one foot in the academic arena, his main focus has always been in "public history." He has worked on everything from the restoration of Richmond's Tredegar Iron Works to teacher's workshops on the Underground Railroad.
Gregg's main music education projects have included exhibitions, a blues historic marker program, Blues in the Schools programs, teacher's institutes, and live, multimedia performances on music history. Here are some links to these activities.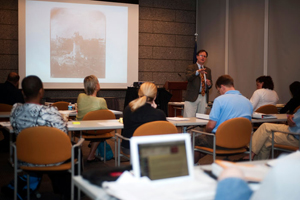 Gregg has a broad knowledge of American history and music based on more than thirty years of teaching, writing, researching and performing. He gives compelling, lively talks on a variety of topics, often employing images and sound to enhance the experience.
Some of his main presentation themes are traditional music in America, African American history, the antebellum South, the history of work and working people, and a variety of Virginia topics.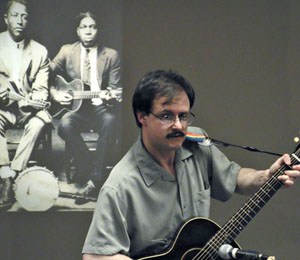 Gregg combines his skills as an educator, historian, and musician to present fun and engaging multimedia shows on traditional music. Collaborating with some of the best musicians in central Virginia, Gregg weaves musical stories on the history of working people and their music. Frequent musical partners include master fiddler Mark Campbell, singer Jackie Frost, balladeer Mary Smith, roots musician Ron Curry, and Blues singer Sheryl Warner.
Gregg has presented themed shows at Colonial Williamsburg's Hennage Auditorium, the Virginia Historical Society, the North Carolina Museum of History, and to many professional and historical organizations. Explore the links below to learn more about Gregg's multimedia shows.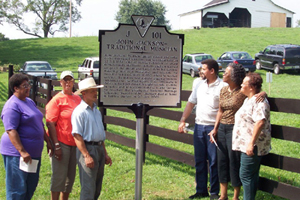 Gregg is deeply involved with communities and organizations across Virginia, assisting with a wide range of projects involving American history and culture. He has researched and written historical markers, assisted in the development of historical sites, and conducted many programs for schools across Virginia.
Gregg is passionate about making the stories of our shared history and culture available to everyone. He uses his extensive experience creating fun and accessible public projects to develop compelling projects.

 Some of Gregg's Notable Projects
Five State Historical Markers honoring  Virginia Blues musicians (James River Blues Society)
State Humanities Scholar for "New Harmonies" Traveling Exhibition (Smithsonian Institute, 2008)
"Old Dominion Songsters: Traditional Blues in Virginia" (Library of Virginia Traveling Exhibition, 2005)
 Folklife Area for National Folk Festival, Richmond (Labor theme, 2006)
"Virginia Roots Music: Creating and Conserving Traditions" (

Library of Virginia Exhibition,

2001)
State Historic  Marker and tours of Richmond's Barton Heights Cemetery (2005)
 Restoration and interpretation of the Tredegar Iron Works (Valentine Museum, 1992-1993)
" The Working People of Richmond" (Valentine Museum Exhibition at Tobacco Row, 1991)
Some Audience Reaction
"

Great performance!

Nice balance of music and commentary. Very personable entertainers."

"Fantastic talent & great info too."

"Undoubtedly part of Kimball's appeal was his stellar slide presentation, full of historic paintings and photographs"