Programs, Projects, and Education
Gregg does a variety of programs by himself and with other artists.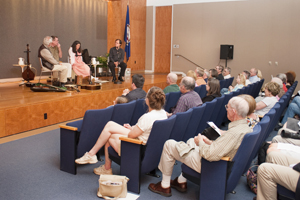 Gregg hosts the program "Ireland to Appalachia" at the Library of Virginia
Although Gregg has always maintained one foot in the academic arena, his main focus has always been in "public history." He has worked on everything from the restoration of Richmond's Tredegar Iron Works to teacher's workshops on the Underground Railroad.
Gregg's main music education projects have included exhibitions, a blues historic marker program, Blues in the Schools programs, teacher's institutes, and live, multimedia performances on music history. Here are some links to these activities.